Recognition of London Ambulance staff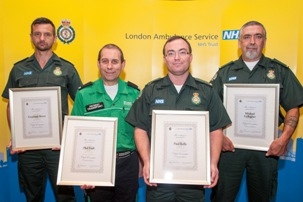 Members of staff with over 20 years' service, retirees and medics who have gone beyond the call of duty were all recognised for their achievements at a celebratory event last night (17 October).

Three members of London Ambulance Service staff and a volunteer from St John Ambulance were awarded the Chief Executive Commendation which recognises highly exceptional actions.
Paramedic Paul Kelly, who is based in Kenton, was one of those commended after he put himself in danger to treat police officers who had been attacked in a shop in Harrow.
Paul did not hesitate to go into the butchers shop to treat the officers, despite the attacker still being on scene with a knife.
Two medics from Edmonton, Grayham Street and Michael Gallagher, were commended for their brave actions after they rushed to the aid of a patient who was drowning in a canal in Enfield. Phil Hull, a volunteer with St John Ambulance was also given a commendation for stopping at the scene of a serious traffic collision whilst off duty and providing first aid until an ambulance arrived.
Six members of staff with over twenty years' service were also celebrated at the event for their dedication and were presented with Long Service and Good Conduct Medals and London Ambulance Service Medallions.
The event also saw, 21 retirees from across the organisation, with a combined total of 627 years' service, presented with glass blocks, commemorative ambulance bells and certificates by Chairman Richard Hunt.
Speaking at the event, he said: "I am proud to be here and recognise these members of staff for their bravery and dedication.
"Their commitment throughout the years has ensured that Londoners continue to receive the very best medical care when they need it most and I am honoured to praise their loyalty."