Medics reunited with Thusha
Two London Ambulance Service medics have been reunited with Thusha Kamaleswaran, who at the age of five became Britain's youngest gang shooting victim.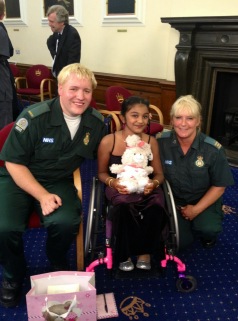 Emergency Medical Technician Sheridan Best and Paramedic James Lafferty were first on scene to treat Thusha in March 2011, after she was shot in the chest at her uncle's shop in south London.
Speaking about that night, James said: "The call first came in as a five-year-old stabbed and we couldn't believe it, we then found out it was actually a shooting and were in total shock.
"When we arrived she was breathing and conscious but quickly deteriorating. We knew how time-critical she was so began stabilising her until the team from London's Air Ambulance arrived.
"Once we had taken her to hospital, we had a debrief and that's when it hit us – we couldn't believe it, we were all praying she would get through it."
Filmed as part of an ITV's Tonight programme, the reunion took place at King's College Hospital and included members of the medical team who saved Thusha.
Meeting her for the first time in over two years, James and Sheridan greeted Thusha with a card and teddy bear.
Sheridan said: "I'm so proud of you; you've gone through an amazing journey – all the time with a smile on your face.
"It's so overwhelming to see how you've blossomed – you are a true miracle."
Sherridan added: "I really pray that she can dance again – as that's what she wishes for. James and I will always remember that night and Thusha's story."
Following the recovery of Thusha closely in the media, Sheridan and James didn't think they would get the chance to see her again.
James said: "Everyone at the ambulance station knew it was us who attended that night and colleagues would leave newspaper cut outs for us with information of her recovery.
"To have the opportunity to see her again will stay with me for the rest of my life."
-ENDS-
Notes to editors: