Call for more defibrillators to save more lives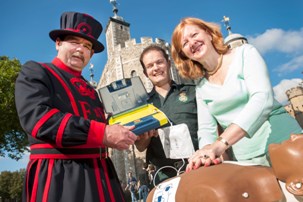 Today (Tuesday 8 October) the London Ambulance Service has launched a campaign to have more defibrillators in public places and save more lives.  
Defibrillators – machines that can restart a heart if it stops – should be like fire extinguishers in every public building or office and people working there trained to use them.
Our scheme offers guidance and support in buying, storing and using a defibrillator and is the first of its kind in the UK. The machines, which are easy and safe to use, are the only effective way to restart a heart if it stops.
Ambulance Operations Manager Chris Hartley-Sharpe said: "In 2011 in London, 56 people died from a fire compared to 10,000 people who suffered an out of hospital cardiac arrest, yet fire extinguishers are statutory in every building and defibrillators are not.
"Londoners' chances of survival from a cardiac arrest could be doubled if they had a quick access to a defibrillator and people knowing CPR. Our campaign will encourage more of the lifesaving machines and skills in the capital."
Deputy Mayor of London Victoria Borwick said: "With over 10,000 out of hospital cardiac arrests in London every year, I welcome the London Ambulance Service's campaign to put more defibrillators in public spaces. The GLA has defibrillators at City Hall and in Trafalgar Square, with staff ready and able to use them.
"I would encourage all London's businesses and public buildings/spaces to join this scheme and invest in a defibrillator and the staff training required to use it – you never know when it might save a life."
Steve Hodder's life was saved thanks to a defibrillator at London Bridge station. He said: "Most people don't survive a cardiac arrest but I was lucky. My heart stopped near a defibrillator and someone who knew how to use it."
Network Rail Station Officer Eddie McDermott, who helped to save Steve's life, said: "We need more defibrillators across London to encourage more people to use them and save lives."
If you would like to get a defibrillator, please visit www.londonambulance.nhs.uk/defib. 
Notes to editors:
Photo (L to R): A Tower of London Beefeater, Community Resuscitation Officer Malcolm Ritchie and Deputy Mayor of London Victoria Borwick. 
The launch was held at the Tower of London which has five public-access defibrillators.
Cardiac arrest is when a heart stops, blood is no longer being pumped around the body and the patient is clinically dead.
A defibrillator gives an electric shock to restart a patient's heart if it has stopped.  
The survival rate for witnessed out-of-hospital cardiac arrests in London in 2012/13 was 28 per cent. 
For further information about this news release please contact the communications department on 020 7783 2286. 
Follow us on Twitter at www.twitter.com/ldn_ambulance or visit us on facebook at www.facebook.com/londonambulanceservice