999 worker to cycle Arch to Arc in the name of charity
Ambulance call taker, Ben Sewell will pedal 300 miles from Marble Arch, London to Arc de Triomphe, Paris for charity on Monday (7 October).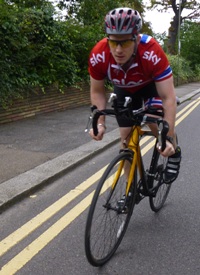 The 27-year-old father of one, from Market Place, East Finchley will take on the challenge with a friend and hopes to complete it in 48 hours.
Ben said: "Most people complete the route in three days, but my friend and I are both fitness fanatics having completed a number of marathons, triathlons and assault courses so thought why not push ourselves and make it more difficult.
"We are really excited – there's something really satisfying about knowing all you have to do when you wake up is ride. We're really close friends as well – and a close friend makes for good company."
The two hope to raise £2,000 for the Maypole Project, a charity supported by the London Ambulance Service which helps children with complex medical needs and their families.
Ben added: "Being a parent myself, with a second on the way, I know how difficult it can be, but I can't imagine how tough it is for families to care for children with disabilities.
"The work the Maypole Project do to support these families is really amazing.
"Family means a great deal to both of us and riding our bikes for a couple of miles is nothing compared to the stress these families have to go through daily."
To sponsor Ben visit www.virginmoneygiving.com/team/2benson2bikes
Notes to editors:
• For further information about the London Ambulance Service or this news release please contact the communications department on 020 7783 2286.
• Follow us on Twitter at www.twitter.com/ldn_ambulance or visit us on Facebook at www.facebook.com/LondonAmbulance
• Look at our latest photos from around the Service at www.flickr.com/londonambulance