London Ambulance Service set for primetime TV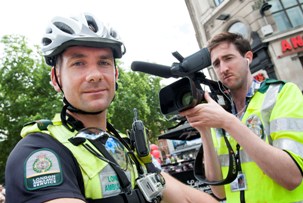 London Ambulance Service will be featuring from Monday (7 October) in the second series of Channel 4's 999: What's Your Emergency, along with two other ambulance services.
The six programmes will follow the work of ambulance control room and frontline staff, and include interviews with patients and staff. The first episode is due to be broadcast at 9pm on Monday (7 October). The first series showed the work of police, fire and ambulance services in Blackpool.
Director of Operations Jason Killens said: "I hope the series will highlight the invaluable work of our frontline staff and 999 call takers, and give the viewers a better understanding of the challenges we're facing. Our staff are not simply ambulance drivers but highly skilled clinicians who treat, diagnose and take patients to the most appropriate place for their care.
 
"The programme might also inspire viewers to give something back – maybe learn first aid or join the frontline and become a paramedic."
Medics from Waterloo and Islington ambulance stations were filmed over a four-week period in July, and a camera operator was also based in our emergency operations centre in Waterloo.
It follows cases from the moment the 999 calls are received, as ambulances are dispatched and the medics arrive on the scene. Each episode is based on a theme with the first exploring the call-outs to young people and their struggles of becoming an adult.
You can also follow and interact with us on Twitter during the series by using the hashtag #999whatsyouremergency.
Notes to editors: