Busiest ever Carnival for ambulance staff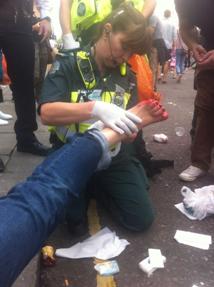 Ambulance workers treated 50 per cent more patients at this year's Notting Hill Carnival compared to last year.
London Ambulance Service medics worked with St John Ambulance to treat 1,263 people during the two-day event, compared to 837 last year. A total of 183 patients were taken to hospital this year – up from 98 last year.
Ambulance Operations Manager Natasha Wills, who oversaw the Service's response, said: "It was extremely busy for us, but it's always a great event to work.
"Many of our patients were treated for cuts and injuries to their feet because of broken glass on the ground. There were also lots of people who were suffering the effects of too much alcohol.
"We plan extensively for the carnival and had an extra 190 staff on duty, enabling us and our St John Ambulance colleagues to get to patients quickly."
The Service worked in partnership with St John Ambulance, who set up 10 treatment centres along the route, where the majority of patients received care.
Over a million people attended the carnival and other medics worked in teams of three – a paramedic, technician and St John Ambulance volunteer – on foot to get through the crowds.
– Ends –
Notes to editors:

• 449 patients were treated on Sunday (25 August) with 79 taken to hospital. On Monday (26 August), 814 were treated and 104 taken to hospital.
• Medics working on foot carried full medical equipment with them, including a defibrillator, oxygen, and a carry sheet to use as a stretcher.
• For further information about the London Ambulance Service or this news release please contact the communications department on 020 7783 2286.
• Follow us on Twitter at www.twitter.com/ldn_ambulance
Visit us on Facebook at www.facebook.com/londonambulanceservice