Carnival crowds to get top treatment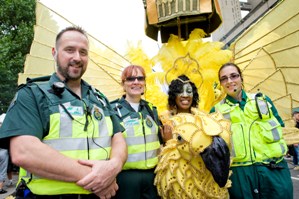 Teams of London Ambulance Service staff will work on foot at Notting Hill Carnival this weekend to weave in and out of the lively crowds and get to patients who need treatment.
With hundreds of thousands of people expected to attend the carnival, medics will work in teams of three – a paramedic, technician and St John Ambulance volunteer – on foot, carrying full medical equipment with them, including a defibrillator, oxygen, and a carry sheet to use as a stretcher.
The Service will be working in partnership with St John Ambulance, who will set up 10 treatment centres along the route, where the majority of patients will receive care.
Ambulance Operations Manager Natasha Wills, who is overseeing the Service's medical arrangements for the carnival, said: "This is always a great event and we hope that everyone who attends has a safe and enjoyable time.
"Visitors can help themselves by making sure they bring any medication they may need, drink alcohol responsibly and drink plenty of water. Every year we treat lots of people for cuts and injuries to their feet, it is important people wear sensible shoes that will protect their feet from any broken glass along the route.
"We plan well in advance for the carnival with St John Ambulance and the emergency services, and ensure that extra staff are available throughout the weekend.
"Our aim is to treat as many people who need first aid at one of the treatment centres run by St John Ambulance, so they don't have to go to hospital unless they really need to."
The Service will be tweeting live from the carnival on Sunday to give followers an insight into how medics work with others to keep revellers safe.
– Ends – 
Notes to editors:
• Ninety frontline London Ambulance Service staff will be on duty at the carnival on Sunday 25 August and around 100 on Monday 26 August.
• Thirteen mobile response teams, including a paramedic, technician and a St John Ambulance volunteer will be on duty on Sunday 25 August, along with eight ambulances with extra medics on board. Eighteen teams will patrol on Monday 26 August, with 10 ambulances available along the route.
• For further information about the London Ambulance Service or this news release please contact the communications department on 020 7783 2286.
• Follow us on Twitter at www.twitter.com/ldn_ambulance using #NHC
• Visit us on Facebook at www.facebook.com/londonambulanceservice