London Ambulance staff conquer London's biggest cycling event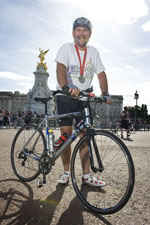 Yesterday (4 August) two members of staff completed the 100 mile cycling challenge in the Prudential Ride London-Surrey 100.
Joining nearly 16,000 budding cyclists, HR Manager Greg Masters and Tower Hamlets based paramedic Gary Cohen completed the gruelling 100 miles raising over £1,000 for our chief executive's charity, The Maypole Project.
Starting at London's Queen Elizabeth Olympic Park and following a similar route to that of the London 2012 Olympic road cycling races, both Gary and Greg peddled their way through London and Surrey, finishing at the Mall.
Greg said: "I'm really proud of myself for completing the ride, and the amount I've raised for charity. The most I had managed during training was 62 miles so I knew it was going to be a real challenge.
"I was really nervous before the event, but the crowds were great and really kept me driven until the end.
"I had a problem with my gears, which meant I had to stop for repairs. I stopped for 28 minutes, and completed in 8 hours 28 minutes, so if I hadn't stopped, I would have beaten Mayor Boris Johnson by four minutes."
Gary, who completed the 100 mile route in 6 hours 16 minutes said, "I thoroughly enjoyed the event, but it was really hard.
"The crowds were amazing, I started at 6.30am so didn't expect to see many people, but even at that time, plenty of people were out cheering."
To make a donation to our cyclists visit http://uk.virginmoneygiving.com/GregMasters http://uk.virginmoneygiving.com/GaryDCohen
-ENDS-
Notes to editors: