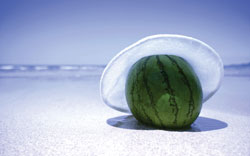 Londoners with medical conditions such as asthma and allergies are being urged to look after themselves as the capital is set to see another hot, sunny weekend.
Last Saturday and Sunday (6 and 7 July) saw a 15 per cent increase in 999 calls to patients with breathing difficulties, and a 34 per cent rise in people reported to have fainted or fallen unconscious.
Assistant Chief Ambulance Officer, Steve Sale, said: "The heat can often make pre-existing conditions worse and the pollen forecast is also high, so we would encourage people to have any medication they might need with them at all times.
"If you are going to be out enjoying the sunshine this weekend it is important to make sure you are prepared. Always eat something before travelling around London, carry a bottle of water with you, keep hydrated and when possible stay in the shade.
"People can help us to respond to those who really need us most by only calling 999 in a genuine emergency."
 
Top tips for keeping well in the heat:
The heat affects everyone, but the young and elderly are particularly at risk. Check up on friends, relatives and neighbours who may be less able to look after themselves.
Avoiding the sun at the hottest part of the day, usually between 11am and 3pm.
Keeping as cool as possible – wear a hat when sitting or working outside and use plenty of sun cream.
Carrying medicines for conditions such as asthma and bronchitis.
Drinking plenty of water and avoid drinking alcohol in the sun.
Consider other healthcare providers in the community such as your local pharmacy or walk in centre for less serious illnesses and injuries. In an emergency always dial 999 for an ambulance.
– Ends –
Notes for editors:  
The number of category A incidents to patients who were unconscious/fainted last weekend was 575 an increase of 34 per cent compared to the average from the previous four weekends (average 429 incidents).
The number of category A incidents to patients who had difficulty breathing last weekend was 474, an increase of 15.3 per cent compared to the average from the previous four weekends (average 411 incidents).
The total number of calls received in the control room last weekend was 11,466, an increase of 27.6 per cent compared to Saturday 22 June and Sunday 23 June (8,985 calls).
The control room received 3,203 category A calls last weekend, an increase of 21.3 per cent compared to Saturday 22 and Sunday 23 June (2640 calls).
For more information please contact the communications department on 020 7783 2286.
Follow us on Twitter at www.twitter.com/ldn_ambulance or find us on Facebook at www.facebook.com/londonambulanceservice