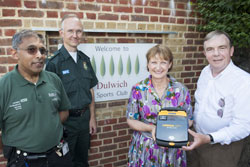 Dame Tessa Jowell MP handed over a lifesaving machine to the Dulwich Sports Club on Burbage Road yesterday (Sunday 7 July).
She said: "As a public health minister, I was involved in the initiative to have more defibrillators in public places. It's a very worthwhile cause."
A West Dulwich ambulance volunteer John Joseph received the defibrillator – a machine that can restart a heart – at a London Ambulance Service awards ceremony last month. John won the award for his community responder role as a first-aid trained volunteer who treats patients alongside ambulance crews.
John, who runs the Southwark and Lewisham community responder scheme, said: "I've decided to donate the defibrillator to the Dulwich Sports Club as it's my local club and a busy one. Members do some active sports here which can trigger undetected medical problems. I hope it will get local people interested in learning first-aid skills to help to save a life."
President of the Dulwich Sports Club John Reddish said: "We are very pleased to receive the defibrillator and will look after it. John has already trained some of our staff in how to use it but we're hoping to have more people trained.
"We've had a few occasions where people needed help but hopefully we won't have to use the defibrillator too often. I hope this will encourage more places to have the machines and we've already had enquiries from other sports clubs about it."
Notes to editors:
Photo (from left to right): Community First Responder John Joseph, Ambulance Operations Manager Chris Hartley-Sharpe, Dame Tessa Jowell MP and President of the Dulwich Sports Club John Reddish.
St John Ambulance and the London Ambulance Service are currently recruiting more south London residents to join the community first responder scheme. Anyone interested in becoming a CFR is invited to attend an information event on 17 July and 21 August at the London HQ of St John Ambulance, 63 York Street, W1H 1PS. Please book your place by emailing

[email protected]

For further information about the London Ambulance Service or this news release please contact the communications department on 020 7783 2286.
Follow us on Twitter at www.twitter.com/ldn_ambulance or visit us on facebook at www.facebook.com/londonambulanceservice