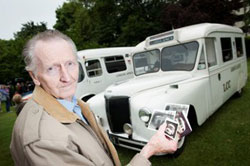 As the NHS celebrates its 65th anniversary today (5 July), an 80-year-old Coulsdon man has recalled the days of working for the ambulance service in the same era.
Pete Bedford joined Surrey Ambulance Service from the Air Force in 1954 before moving in 1960 to Croydon Ambulance Service, which later became part of the London Ambulance Service.
Pete, in his early twenties at the time, drove a Daimler ambulance (see photo above), which dates from 1948 – the year the NHS was born. They were fitted with a bell, which rang on the way to calls.
The father of three and grandfather of five said: "What I loved about the job from the start was that when you went to work, you didn't know what you were going to be called to. There was no routine – one day would be quiet and the next you'd go out first thing and not get back until the end of the shift and you might go to nasty accidents or something more minor.
"One incident that sticks out in my mind was a young man who had just been to watch Crystal Palace play and was late for the train. He was running to Thornton Heath railway station and fell in front of a train.
"He lost an arm but we got him out and I remember that he and his parents were really grateful – I guess you could say we saved his life.
"You could never get bored working on an ambulance – it wasn't like doing an office job or delivery round – I couldn't have imagined doing anything else."
Pete completed 41 years in the ambulance service before retiring aged 65 in 1998.
London Ambulance Service's Community Involvement Officer for Croydon, Vicki Hirst, said: "It's fantastic to meet people like Pete, who dedicated his life to saving others for so many years. Celebrating 65 years of the NHS makes you think about how much the NHS and in particular the ambulance service has changed over the decades."
– Ends –
Notes to editors:
For further information about the London Ambulance Service or this news release please contact the communications department on 020 7783 2286.
Follow us on Twitter at www.twitter.com/ldn_ambulance or visit us on Facebook at www.facebook.com/londonambulanceservice
The history
Post-war reorganisation led to the National Health Service Act of 1948. As part of this, for the first time, there was a requirement for ambulances to be available for all those who needed them.
By now, a more recognisable ambulance service was beginning to take shape. In the 1950s the London County Council's ambulance service moved to Headquarters at Waterloo Road, but it was already clear this wouldn't be large enough. By the early 1960s it was agreed a new headquarters would be built further up Waterloo Road.
A London-wide service was created in 1965 when one ambulance service was formed in London from parts of nine existing services. It comprised nearly 1,000 vehicles and 2,500 staff.
In 1974, when the NHS was reorganised, the London Ambulance Service was transferred from the control of local government to the South West Thames Regional Health Authority.
In 1989 staff took part in a nationwide strike for better pay and working conditions. Every station was involved with many giving out the phone number of the stations so that the public could call the crews directly in case of emergency. After six months of not being paid and living on donations from the public, a pay deal was reached and the crews went back to work.
Service managers continued to report to South West Thames until 1 April 1996, when the organisation became an NHS trust. London Ambulance Service as we know it today officially came into being.
For more about the history of the ambulance service visit the 'a brief history' page of our website.