Busy weekend for the Service at the Pride parade and Armed Forces Day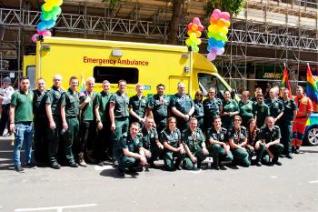 The Service had a busy weekend in central London working at two high profile events.
Staff treated 40 patients at the Pride parade between Baker Street and Whitehall on Saturday 29 June, mainly for alcohol-related illnesses and minor injuries and nine of the patients were taken to hospital.
As well as those who were working at the event, 35 members of staff with their friends and family walked with an ambulance, a car and a cycle ambulance along the parade.
Darren O'Rourke, Joint Chair of the Service's Lesbian, Gay, Bisexual and Transgender (LGBT) forum and Islington Team Leader said: "The theme this year was love and marriage and we were in the honeymoon section along with the Police and London Fire Brigade where there was a really great atmosphere.
"It was great to see so many people at the event and we had a brilliant reception from the crowds, who clapped and cheered as we went along the route."
On Sunday 30 June over 20 staff were in Southwark for the Armed Forces Day
Thousands of people were in the area to watch the military parade of nearly 1000 service personnel and veterans.
Due to the hot weather 16 patients were treated for heat-related illnesses such as fainting and two were taken to hospital.
Area Controller Peter Crean said: "Sunday was extremely hot and therefore very busy for us. A number of people were treated after forgetting to keep hydrated and fainting in the heat.
"Although it was busy it was a fantastic day and it was great to be a part of it".
-ENDS-
Notes to editors: