Bromley nurse thanks lifesaving paramedics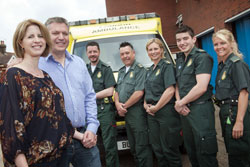 28 June 2013
A 42-year-old nurse whose heart stopped beating only ten weeks ago was yesterday (Thursday 27 June) reunited with the paramedics who helped save her life.
Michelle Kendall, of Westbury Road, Bromley and fiancé David Edmonds had a joyful reunion at Bromley ambulance station on Crown Lane with the staff who treated her when she suffered a cardiac arrest.  
Greeting staff with open arms, Michelle said: "It's fantastic to meet you all again. I can't thank you enough for what you did – you saved my life."
David said: "I was just dozing off to sleep, when I heard a loud crash and thought she had dropped something. But when I got up, I found Michelle lying on the floor shaking.
"I thought she was having a fit so I started shaking her, trying anything to bring her around. I dialled 999 and when I was asked if she was breathing, I realised she wasn't.
"The call taker was absolutely brilliant and kept me calm. He counted me through the chest compressions and I found myself compressing to the beat of Stayin' Alive as shown in the Vinnie Jones advert."
Bromley Duty Station Officer Maria Conyers, who was first on scene with Jamie Maynard, said: "If it wasn't for David starting the compressions as soon as he did, Michelle may not be here today. Immediately performing CPR when someone suffers a cardiac arrest doubles their chance of survival."
David added: "I had basic life-support training years ago. You don't realise that even a little bit of knowledge can make a huge difference. You just do it; you don't have time to think as adrenaline kicks in."
Paramedics Kieren Marks, Lynsey Grant, Kenneth Chibata along with Emergency Medical Technician Matthew Marsh arrived on scene shortly after. They gave Michelle's heart four shocks with a defibrillator and it restarted.
Michelle was taken to Lewisham Hospital. Three days later, she was transferred to King's College Hospital, where she was fitted with an internal defibrillator that shocks her heart back to normal rhythm if it starts to beat irregularly.
Notes to editors:
Photo (from left to right): Michelle Kendall, David Edmonds, Kieren Marks, Jamie Maynard, Maria Conyers, Matthew Marsh and Lynsey Grant.
For further information about the London Ambulance Service or this news release please contact the communications department on 020 7783 2286.
Follow us on Twitter at www.twitter.com/ldn_ambulance or visit us on facebook at www.facebook.com/londonambulanceservice