Service visited Downing Street calling for defibrillators in schools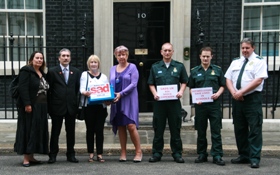 The London Ambulance Service was part of a campaign group to No.10 Downing Street today (Thursday 20 June) to hand over a petition calling for defibrillators in all schools. Over 8,000 people have signed the petition started by the cardiac charity SADS UK.
The Service's Community Defibrillation Officer Martin Bullock, who joined the campaign group, said: "Defibrillators should be in every public building, including all schools. In 2011 in London, 56 people died from a fire compared to 10,000 people who suffered an out of hospital cardiac arrest, yet fire extinguishers are statutory and defibrillators are not.
"We have been working hard to have more public access defibrillators across the capital as they give someone in cardiac arrest the best chance of survival."
It is estimated that 270 cardiac arrests occur in schools in the UK each year which compelled SADS UK to launch 'The Big Shock Campaign' – a nationwide initiative to make defibrillators available in schools. 
Anne Jolly, founder of SADS UK, said: "Children with undiagnosed heart conditions may have a cardiac arrest at any time. A defibrillator is an absolutely vital piece of lifesaving equipment and must be in place in all schools. We know only too well the heartache of parents who contact the charity after the sudden death of a child."
Notes to editors: