Medical Director makes Queen's Birthday Honours list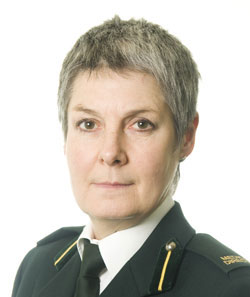 17 June 2013
The London Ambulance Service's Medical Director has been awarded an MBE.
Dr Fionna Moore, who has worked for the organisation for 15 years, was recognised in the Queen's Birthday Honours for services to the NHS and emergency services.
She said: "I'm absolutely delighted, honoured and surprised. When I opened the letter it was one of those amazing moments, and a real struggle to keep it a secret from my family."
Fionna has more than 25 years' experience as a consultant in emergency medicine and as London's first clinical director for trauma, was responsible for leading the implementation of the capital's specialist trauma network.  Ambulance staff have been taking patients suffering severe injuries from car crashes, falls from height, stabbings and shootings directly to one of four major trauma centres in the capital since April 2010.
Fionna, a consultant at Charing Cross Hospital and honorary consultant with London's Air Ambulance, said: "I'm extremely proud to be involved in London's trauma network, which has seen many lives saved as a direct result of taking patients to specialist centres.
"Over the last 15 years, the clinical care we give patients has changed beyond recognition, with ambulance staff now trained to provide a whole range of treatments at the scene of incidents and make life-saving decisions about their care.
"I'm also very proud of our Clinical Audit and Research team, which has shown the way in terms of the importance of auditing our patient data as a core function of a high performing ambulance service."
The Service's Chief Executive Ann Radmore added: "Fionna has given so much to our organisation, London's healthcare and the NHS and this award is very well deserved."
Notes to editors:
Previously Fionna worked as a consultant in emergency medicine, at University College and John Radcliffe Hospitals.
She also works as a British Association for Immediate Care (BASICS) doctor. Immediate care doctors are specialists, trained to provide medical support at the scene of an accident or major medical emergency, or while patients are transit to hospital. They also provide medical support at mass gatherings.
Fionna holds a fellowship in immediate medical care from the Faculty of Pre-Hospital Care of the Royal College of Surgeons Edinburgh.
For further information about the London Ambulance Service or this news release please contact the communications department on 020 7783 2286.
Follow us on Twitter at www.twitter.com/ldn_ambulance or visit us on facebook at www.facebook.com/londonambulanceservice