Dame Helen Mirren celebrates exceptional ambulance volunteers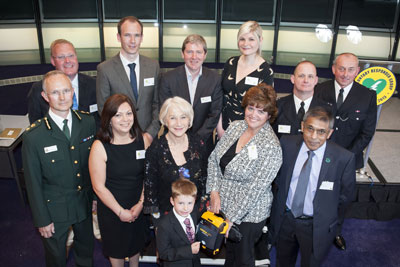 Dame Helen Mirren presented awards to volunteer life-savers at a City Hall ceremony last night (Sunday 9 June).
The London Ambulance Service awards, which were attended by over 200 people, recognised the life-saving work of its Voluntary Responder Group.
Dame Helen became involved in the charity after her friend was resuscitated from a cardiac arrest at the premiere of her film The Debt in Mayfair two years ago.
She told how her friend was only alive today thanks to the quick thinking actions of police officers who saw him collapse.
Dame Helen said: "Chris is alive because he was given CPR and shocked by a defibrillator. More of these life saving machines should be available across London to give others a chance of survival."
Community and emergency responders have life saving skills and volunteer to respond to patients in their communities alongside ambulance crews. Six members of the charity were rewarded for their commitment for saving lives from 73 nominations.
Dame Helen said: "It was an honour to be in the presence of people who give their time to save the lives of others."
Ambulance Operations Manager Chris Hartley-Sharpe, who coordinates the charity, said: "The standard of the nominations was extremely high and demonstrates what dedicated volunteers we have.
"London Ambulance Service staff get to a vast majority of patients quickly, but as many of the stories from tonight show, our volunteers start giving lifesaving care to patients almost immediately, giving them the best chance of survival."
Several patients were among those who were invited to attend the ceremony. Winners were presented with glass trophies and defibrillators which they will donate to a chosen location.  
The awards night was made possible by generous support from Physio Control.
Notes to editors
Community First Responder Award – Volunteers with first aid skills and a defibrillator who respond to patients from their homes and attend 999 calls alongside ambulance crews.
Winner: John Joseph, Southwark and Lewisham.
Highly commended: Jacqui Clare, Havering, and John Jeal/Kier Mahon, Harrow.
Emergency Responder Award – Clinically-trained volunteers who respond to patients alongside the London Ambulance Service from their local ambulance stations on blue lights.
Winner: Simon Bell, Isleworth.
Highly commended: West area emergency responders, and Ian Phillips, British Red Cross.
Community Defibrillation Award – People who work at public-access defibrillator locations and are first aid trained and know how to use the machine.
Winner: Al Moore, Andy McInally, John Stuart, Paul Maher, from the Metropolitan Police.
Highly commended: Eddie McDermott, Network Rail, and Demetrios Geniris, Heathrow Airport.
Community Resuscitation Award – People who have learnt first aid and how to use a defibrillator through a London Ambulance Service training programme.
Winner: Trudy Mapstone.
Highly commended: Sue Barney and Damon Clifford.
Organisation Award – Organisations that have committed to having defibrillators in their buildings and support their staff to learn first aid.
Winner: Greenwich Leisure.
Highly commended: London Underground and Saving Londoners.
Lives Support Award – People who encourage the learning of first aid and the importance of public access defibrillators, but do not contribute in a patient facing role. 
Winner: Angela Pragnell, Heathrow Airport.
Highly commended: Kirsty Staines, London Ambassador, and St John Community First Responder recruitment and training team.