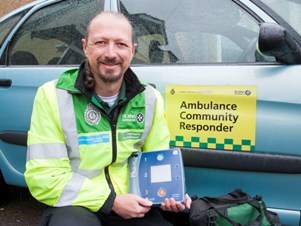 Enfield residents can become volunteer community responders working alongside the London Ambulance Service in the area.
Last year (2012/13) we responded to 39,196 incidents in Enfield and 15,993 of those were to patients with life-threatening illnesses or injuries. Each one of these calls could need basic life-saving skills as quickly as possible to give them the best chance of survival and recovery.
Our medics reach the majority of the most seriously ill patients within eight minutes, but if someone in the next street had the basic skills and equipment they could get there to help even faster. This would make a big difference in saving a life.
David Forward has been a community responder in Enfield since September 2010. He said: "I became a volunteer by accident – I completed a St John Ambulance first aid at work course and then found out about the community responder scheme. It sounded like a good idea and gave me the chance to use my new skills. Also I'm a believer in helping the community.
"I work from home one day a week which allows me to volunteer between 12 and 18 hours a week. This is a lot and most responders do four hours a week and the scheme only requires people to commit to four hours a month.
"Generally I'm called out once a shift but I've had it where I was out for most of it attending a variety of calls. I've helped patients who were in cardiac arrest, had diabetic emergencies or collapsed – the list is endless but we keep within what we're trained to do."
The Service with St John Ambulance will give you the training, equipment and support, and you could start saving lives.
You can find out more at an information evening from 7pm to 9pm on Tuesday 11 June at St John Ambulance HQ & Training Centre, Shirley Road, Enfield, EN2 6SB. 
Notes to editors: