Stonewall Healthcare Equality Index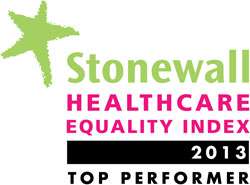 27 March 2013
Stonewall has today (27 March) published the results of its Healthcare Equality Index, showcasing the most gay-friendly healthcare organisations in England and we have been recognised in the top 10.
This is the charity's first Healthcare Equality Index which audits our performance on how well we meet the needs of lesbian, gay and bisexual patients, carers and their families.
Thirty two healthcare organisations entered the Index and we took third place. Assessments were made against criteria including policy and practice, engagement and communication, health promotion and staff training.
Steph Adams, Joint Chair of the Service's Lesbian, Gay, Bisexual and Transgender (LGBT) forum and Greenwich Ambulance Operations Manager, said: "Alongside our improvement in the Workplace Equality Index, this is a significant achievement for us. 
"It is important to recognise healthcare issues for all groups of patients and ensure our response recognises the needs of the individual.
"We are proud to be included on the Index and lead the way for inclusive services for all."
Last year we worked on a number of initiatives to improve services for LGBT patients and service users including launching an LGBT service user group meeting to invite feedback for improvement.  We also worked with other healthcare organisations to provide support and advice for setting up their own user groups.
– Ends –
Notes to editors: