Service calls for more defibs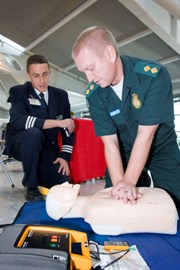 The London Ambulance Service has called for more defibrillators to be available to the public so more lives can be saved.
When someone suffers a cardiac arrest, calling 999 for an ambulance, starting chest compressions straight away and using a defibrillator – a machine that delivers an electric shock that can restart the heart – as soon as possible gives them the best chance of survival.
In a Parliamentary debate on the issue of sudden cardiac arrest last night (25 March), MPs paid tribute to the work of the Service during a two-and-a-half hour Westminster Hall debate on how the government should make lifesaving training and defibrillators more readily available to communities in order to save more lives.
Labour MP Steve Rotheram (Liverpool, Walton) said: "I unashamedly want there to be a defibrillator in every public building, in much the same way as there are fire extinguishers and fire alarms in every building.
"As the London Ambulance Service pointed out in its briefing for today's debate, 56 people died in London from a fire in 2011 compared with 10,000 Londoners who suffered an out of hospital cardiac arrest—yet fire extinguishers are statutory in every building—and defibrillators are not".
MPs from across the country took part in the debate, relating real-life examples from their constituencies of when people had used defibrillators to save lives and cases where the lack of lifesaving skills and equipment had seen tragic consequences.
London Ambulance Service Community Defibrillation Officer Martin Bullock (pictured), who watched the debate from the public gallery, said: "In London we've worked really hard since the 1990s to improve the out-of-hospital cardiac arrest survival rate from two per cent to 32 per cent.
"Part of that increased survival rate is due to us placing over 850 defibrillators in public places like shopping centres and train stations, with volunteers who work in those venues trained to use them. Experience tells us that people suffering cardiac arrest in places with a public-access defibrillator have a much greater chance of survival than those who don't.
"By having more defibrillators in public places we know that more people would survive cardiac arrest."
As part of the public-access programme, the Service installed 16 defibrillators in the Houses of Parliament in December 2012 and continues to facilitate CPR training for people who work there.
The debate was prompted by an e-petition of over 100,000 signatures collected by the Oliver King Foundation, a charity launched in memory of a 12-year-old boy from Liverpool who died in March 2011.
– Ends –
Notes to editors: