'Act FAST' campaign returns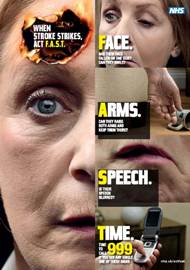 4 March 2013
Londoners are being reminded to 'Act FAST' if they think someone is suffering a stroke, as the Government's advertising campaign makes a return today (4 March).
The television advert shows how to do the 'Face, Arm, Speech, Time to call 999 test' which identifies people whose blood supply is being cut off from the brain – a life-threatening emergency.
People should look for:
Facial weakness – can the person smile? Has their mouth or eye drooped?
Arm weakness – can the person raise both arms?
Speech problems – can the person speak clearly and understand what you say?
Time to call 999
Last year our staff attended 10,912 patients who were showing symptoms of the FAST test.
Since 2010 staff have been bypassing local A&E departments and taking patients with suspected stroke directly to one of eight hyper-acute stroke units (HASUs) in the capital, where expert clinicians offer round-the-clock, lifesaving care.
Figures from the Service's stroke annual report (2011/12) showed that the average ambulance journey time to a HASU was only one minute longer than to the local A&E department.
Consultant Paramedic, Mark Whitbread, said: "Everyone should learn the FAST test because if you think someone's suffering from stroke you need to call 999 for an ambulance immediately. When someone's suffering a stroke it means the blood supply to their brain is interrupted and they need definitive care as quickly as possible to survive.
"If our staff suspect you're suffering from a stroke they will take you directly to a specialist hospital, rather than the local emergency department, where you will receive round-the-clock care from a team of expert clinicians.
"The ambulance journey may be slightly longer to a specialist centre but ultimately you will get access to definitive care more quickly and have more chance of making a full recovery."