Death-defying jogger seeks mystery lifesaver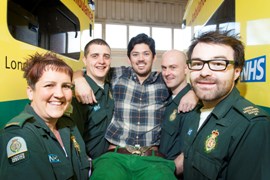 A 21-year-old student whose heart stopped beating as he jogged beside the Thames is looking for the mystery woman who saved his life with CPR.
Maxi Ducam-Davies, from Hammersmith, was running along the river near Craven Cottage on the Friday before Christmas (21 December 2012) when he suffered a cardiac arrest at around 2.15pm.
A passerby called 999 for an ambulance and a young woman, thought to be a medical student, immediately started chest compressions until the first ambulance crew arrived six minutes later.
Ambulance staff used a defibrillator to shock Maxi's heart to get it started again, before taking him to Charing Cross Hospital for further care.
Maxi, who played rugby for Nottingham University and had never suffered any previous heart trouble, said: "I feel unbelievably lucky to be here now. To have been found on a such a quiet footpath by somebody, let alone a medical student who could perform CPR, is very lucky. I owe this girl my life.
"I really want to find the girl who saved my life so I can say 'thank you'. All I know is that she's a medical student, but I don't know anything else about her."
Maxi woke up in hospital three days later and went on to be fitted with an internal cardioverter defibrillator, a machine that will automatically shock his heart if it stops again.
Briefly home after resuming his studies at Nottingham, Maxi met the ambulance staff who helped save him at Fulham ambulance station on Friday (15 February).
Emergency Medical Technician Edward Hyson, one of the first staff on scene, said: "Maxi standing here today is testament to the importance of bystander CPR, it ensured that the blood was kept circulating around his body, giving him the best chance of survival. 
"If anyone should see someone collapse and stop breathing in front of them, then I would urge them to call 999 straight away and start chest compressions, and don't be scared of doing it wrong – anything is better than nothing.
"If you're in a public place you should also ask if there's a defibrillator nearby. There are over 850 public-access defibrillators in places like train stations, shopping centres and museums in London, with volunteers who work there trained to use them.
"We understood the bystander to be a medical student, but we didn't get a chance to get her name because we were fully focused on caring for Maxi."
If you were the medical student who saved Maxi's life on the Thames Path near Millshot Close, SW6, on Friday 21 December 2012, please call Alistair Drummond at London Ambulance Service on 020 7783 2115 or email [email protected].
– Ends –
Notes to editors: