Alcohol-related 999 incidents in Havering up by a quarter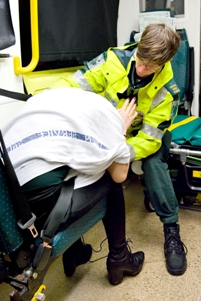 Alcohol-related 999 incidents in Havering went up by 27 per cent last year – the biggest increase in London.
New figures released by the London Ambulance Service show that last year staff went to 1,243 emergency incidents in the borough, compared to 978 in 2011, where alcohol was judged to be a major factor.
Ambulance Operations Manager for Havering Paul Gibson said: "This huge spike in alcohol-related 999 incidents in the borough is a real concern, especially when such calls continue to decrease in the rest of London.
"As shown by the Department of Health figures out today most people underestimate their alcohol intake by up to 40 per cent. And we see the consequences of people overdoing it, to the point that they need the help of an ambulance crew and possibly further treatment at an A&E.
"If our staff are dealing with patients who are simply drunk, they won't be able to take care of patients with life-threatening emergencies, for example people suffering a cardiac arrest or those with serious injuries.
"We're not against people having a good time but think about the consequences of excessive drinking on your health. Drinking too much can put you at risk, impair your judgement, affect the quality of sleep you get and, in the longer term, it can lead to serious illnesses like liver or heart disease."
 
There are a number of things you can do to help yourself to avoid overdoing it:
Eat before drinking to help soak up alcohol.
Have the odd soft drink between alcoholic drinks to keep hydrated.
Plan your journey home and don't leave it to chance.
Keep an eye on your friends and make sure that no one gets left behind, as these are the people who we are often called out to help.
You can find a drinks checker to measure your alcohol intake and get some simple tips on how to improve your health, save money and reduce calories at Change4Life's website at http://www.nhs.uk/Change4Life/.
Notes to editors:
The total number of alcohol-related incidents in Havering in 2012 was 1,243, compared to 978 in 2011. 
The total number of alcohol-related incidents in London in 2012 was 55,577, compared to 56,940 in 2011. 
The total number of 999 incidents in Havering in 2012 was 29,804, compared to 27,583 in 2011.
Department of Health's press release about drinkers underestimating their alcohol intake can be found at http://mediacentre.dh.gov.uk/2013/02/07/drinkers-can-underestimate-alcohol-habits/
For further information about the London Ambulance Service or this news release please contact the communications department on 020 7783 2286. 
Follow us on Twitter at www.twitter.com/ldn_ambulance or visit us on facebook at www.facebook.com/londonambulanceservice