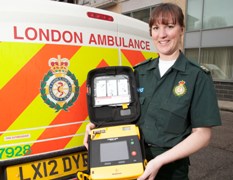 A paramedic dedicated to improving public access to free lifesaving lessons has started work in south west London.
London Ambulance Service Community Resuscitation Training Officer Sam Wilcox will cover Croydon, Sutton, Merton, Kingston, Wandsworth, Lambeth and Hounslow.
Sam's role is funded by the British Heart Foundation to coordinate basic life support 'Heartstart' lessons in the community.
Sam will also be working with local organisations who want to be involved with helping to save lives by getting their own defibrillator – a machine that delivers a shock to restart someone's heart when it stops beating. There are over 800 public-access defibrillators in London.
Sam, who previously worked as a paramedic team leader in Croydon, said: "It's really easy to learn how to save a life and it can make all the difference to someone's chances of survival if they collapse and stop breathing.
"When a person suffers a cardiac arrest blood is no longer being pumped effectively around their body and oxygen is not reaching their brain. It's vital that someone calls 999 for an ambulance, starts chest compressions and asks if there's a defibrillator nearby.
"Everyone should feel confident to use a defibrillator as they are safer and easier to use than a fire extinguisher. If there were as many defibrillators around as fire extinguishers we'd see a lot more people surviving cardiac arrest."
Patients are now twice as likely to survive an out-of-hospital cardiac arrest in London than they were just four years ago. Latest figures show that in 2010/11, 31.7 per cent of patients suffering an out-of-hospital, bystander-witnessed cardiac arrest and who were treated by ambulance staff were discharged alive from hospital, compared to 10.9 per cent in 2005/06.
To enquire about Heartstart lessons please call 020 7783 2534 or email [email protected].
– Ends –
Notes to editors: