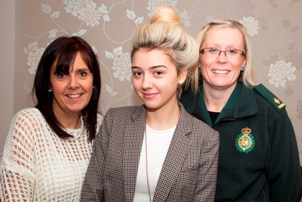 An off-duty paramedic, hailed a 'hero' for stopping to help a teenager hit by a car, met the patient and her grateful mother during an emotional reunion.
London Ambulance Service Paramedic Nikki Wyatt was driving to her sister's house in Essex when she was flagged down in November last year. Danielle Dresou, 19, had been on her way out with a friend when she was struck by a car near her home in Caledonia Lane, Wickford.
Mother of two Nikki stopped and treated Danielle until an ambulance arrived and took her to hospital. She was reunited with Danielle and her grateful mother, Julie, at their home.
Julie, 43, said: "When I heard that someone had stopped to help Danielle and saved her life, I knew I wouldn't be able to relax until I had found her. I just can't thank Nikki enough for what she did – the fact that she happened to be passing by at that exact time – it's just a miracle."
Nikki, who is based at Edmonton ambulance station, said: "It was instinct to stop and help. Danielle was initially unconscious and wasn't moving so I got her on her back and opened her airway. She slowly started to come round and I stayed with her until more help arrived."
Tests revealed Danielle had a bleed on the brain and she was immediately transferred from Basildon Hospital to Queen's Hospital, Romford, where she was put in an induced coma for five days. She has now fully recovered.
Nikki added: "I was really chuffed to see them both. They were so appreciative and gave me a hug and I truly believe we'll be friends for life. In the 12 years I've been in this job, I've never been thanked like that. It was just great to know that Danielle is OK and that I helped in some way – really humbling."
-ends-
Notes to editors:

• For further information about the London Ambulance Service or this news release please contact the communications department on 020 7783 2286.
• Find out more about the London Ambulance Service at www.londonambulance.nhs.uk or follow us on Twitter at www.twitter.com/ldn_ambulance