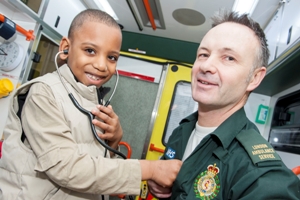 A six-year-old boy whose twin brother died at birth has realised his dream after spending time with paramedics and climbing on board an ambulance.
Kwame Myers was born prematurely at 23 weeks at University College London Hospital, weighing just 740g (1lb 10oz). His twin brother Shaka sadly died three weeks later. Kwame spent six months in hospital and fought off many illnesses and underwent numerous operations.
For the last few years the St Matthias Primary School pupil has been fixated with ambulances and paramedics and cannot wait until he is old enough to train to be one.
Kwame and his mother Hyacinth, of Shacklewell Lane, Hackney, met London Ambulance Service's Patrick Brooks, who showed them different ambulances and equipment.
Kwame, who also has a 14-year-old brother, said: "I just want to help sick people and babies like I was helped."
Single parent Hyacinth, 40, said: "He absolutely loved it and it was great that Patrick was able to answer so many of his questions. Kwame is fascinated by ambulances and paramedics to the point of talking about the training he needs, waving to every ambulance, stopping anyone in uniform and watching documentaries. He knows all of the different models of ambulances too.
"It really has made his dream come true. Kwame has had a lot of illnesses over the years, but throughout the whole time, ambulance and hospital staff were fabulous."
Patrick added: "When Hyacinth got in touch and we heard Kwame's story and how brave he's been over the years, we didn't hesitate to invite him along to see how it all works.
"He'll make a great paramedic when he's older."
-ENDS-
Notes to editors:

For further information about the London Ambulance Service or this news release please contact the communications department on 020 7783 2286.
Find out more about the London Ambulance Service at www.londonambulance.nhs.uk or follow us on Twitter at www.twitter.com/ldn_ambulance
Kwame spent the first six and a half months of his life in hospital, undergoing heart surgery, hernia operation, and he also had long term jaundice. He suffered many illnesses including septicaemia and renal failure. Kwame is now relatively healthy, although does have chronic lung disease and mild global delay.