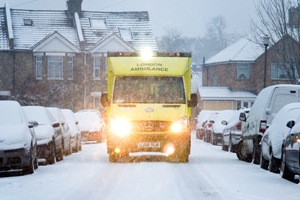 The London Ambulance Service is preparing for an increase in calls as London braces itself for some very cold weather and snow.
Past experience shows that when cold weather sets in, the Service is put under additional pressure with an increase in falls, heart attacks, respiratory problems, road collisions, and people calling with flu-like symptoms.
Assistant Director of Operations for Control Services, John Hopson, said: "We are well prepared to deliver the same high standard to Londoners, but we would also ask the public to help us by using the 999 system wisely.
"We would ask people who have minor illnesses or injuries to think about using other healthcare options, for example GPs and pharmacies along with the NHS Direct helpline on 0845 4647. 
"This will enable us to ensure our frontline ambulances are available for people who really need them, such as patients with serious or life-threatening illnesses or injuries."
In order to prepare for snow all of our ambulances are fitted with winter tyres which work more efficiently on snow or ice. Our cars also have a 'snow' button which assists when pulling away on slippery surfaces.
During the very cold weather 999 calls increase dramatically and people should take extra precautions to protect themselves from the risks associated with extremely cold weather so they don't become ill or injured.
John continued: "By following a few simple tips people can do a lot to keep themselves well.
"These include checking the weather forecast so you are prepared, wrapping up warmly, and taking extra care when out and about – people seem to expect everything to work normally in cold weather but this isn't always the case and I would urge Londoners to plan ahead when driving or using public transport to travel around the capital."
10 tips to keep well this winter
1. Check that your heating system works properly.
2. Keep the temperature in the room you are using at around 21°C.
3. Dress for warmth and comfort, putting on several thinner layers of clothing to trap the heat.
4. When going outside take extra care to wrap up warm to ensure you are not exposed to the cold and wind.
5. Wear warm, dry, flat boots or shoes with good non-slip soles, especially in frosty or wet weather.
6. Eat a well-balanced diet with hot meals every day.
7. Have regular hot drinks to give you extra warmth and energy.
8. Keep as active as you can – moving around generates extra body heat.
9. Plan ahead by keeping a well-stocked medicine cabinet.
10. Keep an eye on your neighbours to ensure they are looking after themselves.
-ENDS-
Notes to editors
For further information about the London Ambulance Service or this news release please contact the Communications Department on 020 7921 5113.