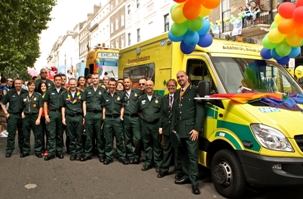 The London Ambulance Service is one of Britain's most gay-friendly workplaces according to Stonewall.
The charity, named the Service the 22nd most gay-friendly workplace for lesbian, gay and bisexual staff.
Ambulance Operations Manager and joint Chair of the Service's Lesbian, Gay and Bisexual (LGB) Forum, Trevor Hubbard, said: "From promoting our Service at gay pride to an LGB forum and Facebook page, the Service, ensures that it provides a positive environment for all staff.
"The Service has also been involved in helping to develop other ambulance services' forums and our own was awarded with Stonewall's 'star performer' logo."
This is the second time the organisation has made Stonewall's Top 100 employers list; the Service took 94th place in 2012. The Service is the only emergency organisation in London to feature as a top employer.
Trevor added: "To improve over 70 places from last year is a massive achievement and this is fantastic recognition that our Service is a diverse and welcoming place to work.
"In 2012 we became one of the Stonewall Health Champions and have worked behind the scenes to promote our achievements and build on them attending numerous events and assisting others to develop their networks nationally."
-ENDS-
Notes to editors:
• For further information about the London Ambulance Service or this news release please contact the communications department on 020 7783 2286.
• Find out more about the London Ambulance Service at www.londonambulance.nhs.uk or follow us on Twitter at www.twitter.com/ldn_ambulance