More Londoners than ever getting fast access to stroke care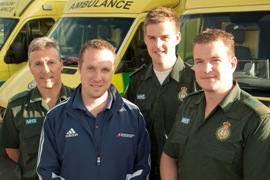 Over 8,250 suspected stroke patients were taken by ambulance directly to specialist hospitals in London last year, figures released today show.
Sometimes known as 'brain attack', stroke is a life-threatening illness that interrupts the blood flow to the brain and needs definitive treatment as quickly as possible.
London Ambulance Service staff have been taking patients with suspected stroke directly to one of eight hyper-acute stroke units (HASUs) in the capital since 2010, where expert clinicians offer round-the-clock, lifesaving care.
Figures for 2011/12 from the Service's stroke annual report also show that the average ambulance journey time to a HASU takes only one minute longer than to the local A&E department.
Peter Banks, 29 from Hillingdon (pictured), survived a life-threatening stroke after ambulance staff took him directly to the HASU at Charing Cross Hospital, bypassing local hospitals on the way.
Medical Director Fionna Moore said: "Our staff are giving patients with stroke the best chance of survival by taking them directly to a hyper-acute stroke unit for specialist care.
"Crews will sometimes bypass local A&E departments, but the slightly longer journey time ultimately means the patient is getting rapid access to the most appropriate treatment.
"Our figures also show that staff checked the blood pressure of 8,670 suspected stroke patients last year. High blood pressure, which can go undiagnosed in a lot of people, is the biggest risk factor for stroke.
"The Face Arm Speech Time (FAST) test is simple way of recognising if someone could be suffering stroke. Everyone should learn the FAST test and if they think someone's suffering a stroke they should call 999 for an ambulance immediately."
London Stroke Clinical Director Professor Anthony Rudd said: "Stroke is a medical emergency: the quicker patients get to a centre capable of providing the appropriate care the more likely it is that the patient will survive and go home having made an excellent recovery.
"The London Ambulance Service has been a key partner in delivering a stroke service that is now recognised as being one of the best in the world.
"We have shown that we are saving more lives and reducing the financial burden to society as a consequence of the changes."
Judy Walker Director, Life After Stroke Services, from the Stroke Association in the South of England said: "At the Stroke Association we support stroke survivors and their family from diagnosis, and throughout their recovery, helping them to re-build their life after stroke. 
"By providing this support we have seen that people make a better recovery if their stroke has been treated as an emergency. For this reason, we applaud the tremendous progress that has been made in recent years in London which has meant more patients get critical emergency treatment more quickly. The speed with which the London Ambulance Service can get people to hospital is very encouraging and should be a great reassurance to people right across the capital."
-Ends-
Notes to editors:
Key figures from the London Ambulance Service stroke annual report 2011/12:
8,680 patients presented to staff with symptoms of stroke
Average age of a stroke patient was 72
52 per cent were female
66 per cent described their ethnicity as white
97 per cent received a full FAST test or valid reasons why it wasn't undertaken
Staff spent an average of 34 minutes on scene with stroke patients
96 per cent of patients were taken directly to a HASU
The average (mean) blue-light journey time from scene to HASU was 15 minutes
The average (median) blue-light journey time from scene to HASU was 13 minutes
94 per cent of patients received the pre-hospital care bundle – FAST test, blood pressure measurement and blood glucose measurement.
Ambulance staff will take patients showing signs of stroke directly to one of the eight HASUs in London, based at the following hospitals:
Northwick Park
Charing Cross
University College
The Royal London
Queen's, Romford
King's College
St George's
Princess Royal University