London Ambulance Service staff recognised as heroes
From paramedics confronted by a man with a knife to someone who has dedicated 46 years to the Service, staff have been hailed as 'NHS Heroes' at a ceremony on Saturday (24 November).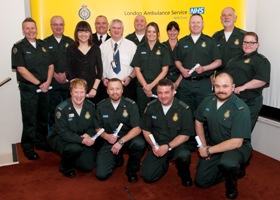 Twenty-three staff received the awards after being nominated by members of the public and colleagues for their compassion, dedication, kindness, skill and bravery, following a national campaign, launched earlier this year.
Those nominated work in a variety of roles across the Service including paramedics, station administrators, emergency call takers and community responders.
Acting Chief Executive, Martin Flaherty, presented each member of staff with an NHS Heroes certificate, he said: "I am honoured to present these members of staff with their NHS Heroes award which are all thoroughly deserved.
"Our staff working on the frontline, in support roles or as volunteers work hard to deliver the best care to Londoners and I am pleased that they have been recognised as the heroes that they are."
-Ends-
Notes to editors: