London Ambulance Service celebrates Chief Ambulance Officer Commendations
Ten medics, one member of the public and a police constable have all been awarded the Chief Ambulance Officer Commendation at a ceremony on Saturday (24 November).
All were recognised for their bravery, dedication, determination and quick thinking in life threatening situations.
One ambulance crew were commended for disarming a patient with a knife before treating him and taking him to hospital. Another medic was given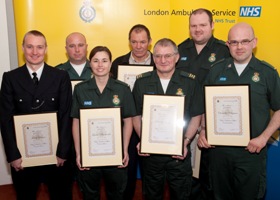 the award for his quick actions that prevented an ambulance from exploding when it caught fire.
A member of the public was commended for catching a thief who stole life saving equipment from an ambulance while a police constable was commended for rushing to the aid of a motorcycle paramedic who was involved in an accident.
Acting Chief Executive, Martin Flaherty said: "The Chief Ambulance Officer Commendation recognises highly exceptional actions by staff, the public or people from other services.
"It is important to recognise those who go beyond the call of duty and this commendation does that.
"I am proud of all our staff but today's award winners have shown exceptional bravery. I am also extremely grateful to those who do not work for the Service but went the extra mile to help us in our moment of need – congratulations to them all."
-Ends-
Notes to editors: