Recognition for dedicated ambulance staff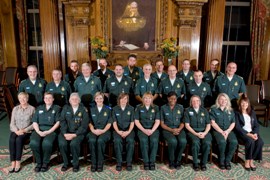 London Ambulance Service staff, with a combined 780 years of lifesaving emergency services experience, were recognised at a ceremony last night (18 October).
Twenty members of frontline staff who completed 20 years service received the Queen's Ambulance Service Long Service and Good Conduct Medal and three of their colleagues received the London Ambulance Service Medallion.  The medals were presented by Acting Chief Executive Martin Flaherty.
Twelve retirees from across the organisation, with a combined 320 years' service, were presented with glass blocks, commemorative ambulance bells and a certificate by Chairman Richard Hunt.
Martin said: "I am proud to honour these members of staff for the years they have spent helping the people of London in times of emergency. 
"Their dedication to their duties throughout their years with the Service have ensured that Londoners continue to receive excellent medical treatment when they need it most."
– Ends –
Notes to editors:
List of honourees:
Recipients of the Queen's Ambulance Service Long Service and Good Conduct Medal:
Graham Barwick, Chase Farm
John Brindley, Lee
Allen Cameron, Mill Hill
Stuart Crichton, Camden
Mansour Eskandarzadeh, Chase Farm
Richard Ferro, Chase Farm
Daniel Gaze, Barnehurst
Alison Greene, Romford
Tracy Jepson, Brent
Janice Lyons, Chase Farm
Keith Maddison, Fulham
Steven Miller, Croydon
Andrew Paice, Chase Farm
Colin Passey, Hanwell
Jane Reeves, Bromley
Mark Robertson, Bromley
Sue Russo, Bromley
Jennifer Taylor, Lee
Sonia Williams, Romford
Andrew Willicombe, Hanwell
Recipients of the London Ambulance Service Medallion:
Shaun Claxton, Becontree
Heidi Rapley, Ilford
Jacqueline White, South West London
Retirees:
Kathleen Joscelyne (20 years)
Patricia Tomkies (20 years)
Brenda Clayton (22 years)
Albert Jacobs (22 years)
Andrew Boyd (25 years)
Barry Coe (27 years)
David Roberts (27 years)
Nicholas Faerber (27 years)
Roy Gibson (29 years)
Mick Taylor (31 years)
Laurie Low (35 years)
Simon Stuart (35 years)