Tweeting London's 999 ambulance calls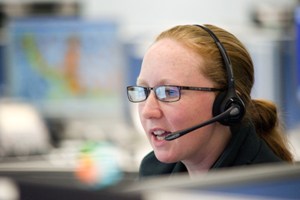 People living in the capital and beyond will get the chance to go behind the scenes of one of the world's largest and busiest ambulance control rooms when the London Ambulance Service holds a 12 hour 'tweetathon' from midday today (4 October).
It will follow an emergency call taker as they answer 999 calls and potentially give life saving advice to some of the 4,000 or more people who call for help every day.
Last month staff took an extra 300 calls a day compared to September 2011.
Head of Control Services, Richard Webber, said: "Our staff can deal with anything from helping to deliver a baby to giving instructions on how to resuscitate someone who has stopped breathing.
"Tweeting some of the calls we receive will give Londoners a snapshot of the huge variety of work we deal with as well as taking them through some of the questions we ask, the advice we give and why."
Not everyone who dials 999 will be sent an ambulance. Callers with less serious illnesses or injuries may be referred to NHS Direct or given clinical advice over the phone.
Richard added: "Anyone with a life-threatening illness or injury will be sent a fast response. But not all 999 calls are an emergency. We hope people will see how busy we are and consider using other health care providers in the community such as a GP, pharmacist or walk in healthcare centres."
The calls will be captured through the Service's Twitter page, www.twitter.com/Ldn_Ambulance, under the hashtag #999ambulance. The 'tweetathon' will start at midday and finish at midnight.
– Ends –
Notes to editors:
In September (2012) the control room received 141,140 calls compared to 132,463 the year before. This is an increase of around 300 calls a day (6.5 per cent).
In 2011/12 the control room received 1,605,956 calls, nearly 112,000 more than the year before. In 2010/11 the control room received 1,494,207 calls.
One call taker will have every call they receive tweeted between midday and 6pm. A second call taker will have their calls tweeted from 6pm to midnight.
No patient identifiable information or the location of incidents will be tweeted.
The Service will be tweeting the calls as they are reported to the control room before our staff have attended the scene.
On 4 October 2011 we received 4,299 calls into our control room.
On 4 October 2011 the busiest hour was between 7pm and 8pm.
For further information about the London Ambulance Service or this news release please contact the communications department on 020 7783 2286.
Find out more about the London Ambulance Service at http://www.londonambulance.nhs.uk/ or follow us on Twitter at www.twitter.com/ldn_ambulance