London Ambulance Service's Games planning pays off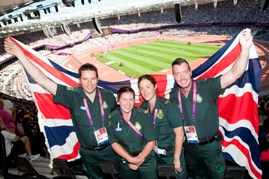 As London prepares to return to normality after the success of the 2012 Paralympics, the capital's ambulance service is reflecting with pride on its own achievements in caring for patients at the Games and across the city.
During the 12 days of ceremonies and sporting competitions – and in addition to those people treated by LOCOG Medical and St John Ambulance – staff from the Service along with colleagues from other NHS ambulance trusts attended more than 400 patients in Paralympic venues and related events such as live sites and the torch relay. Of these, over 170 people were taken to hospital or the polyclinic at the Olympic Park.
At the same time, the normal 999 service was successfully maintained across the whole of London.
Deputy Director of Operations Jason Killens said: "We're very pleased that we were able to provide the same level of care during the Paralympics as we were during the Olympic Games, and were always on hand to ensure that those attending events could enjoy them safely.
"A massive amount of work has gone on in planning our level of support at venues throughout both Games periods, as well as ensuring that we have been able to continue to provide the best service we could to the rest of the capital.
"It is very satisfying for all staff involved – in our control rooms, support services and those who have been treating patients – that we have been able to achieve this."
When added to the number of people treated at venues and related events during the Olympic Games, the figure from the Paralympics brings to over 1,250 the total number of Games-related patients cared for during the London 2012 competitions, with around 670 needing to have gone to hospital.
Away from the sporting action, patients across the capital received a fast response, with an average of nearly 83 per cent of those with the most serious illnesses and injuries reached within eight minutes – above the Government target of 75 per cent.
This was achieved despite a seven per cent increase in the number of overall emergency incidents during the periods of the Olympic and Paralympic Games compared to the corresponding periods last year.
Between 27 July and 12 August and 29 August and 9 September, the Service attended more than 86,000 incidents – up from 80,527 in the same weeks in 2011.
-ENDS-
Notes to editors: