Cycle medic to go length of country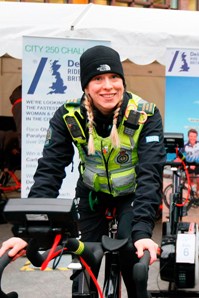 A London Ambulance Service cycle responder is to cycle from Land's End to John O'Groats for charity with Olympic gold medallist James Cracknell.
Nicky Czwartos, 32, won a place on the 960-mile Deloitte Ride Across Britain trip after being crowned 'fastest woman in the City' in February. She outpaced over 100 other competitors at an event in the City of London, including former world champion pursuit cyclist and Beijing Games winner Rebecca Romero MBE.
Emergency Medical Technician Nicky begins the challenge on Saturday (8 September) and is raising money for London's Air Ambulance and the London Ambulance Service Chief Executive's nominated charity – the Maypole Project.
Nicky, who is based at Smithfield ambulance station, said: "I was on duty with a colleague back in February when we came across James Cracknell and Rebecca Romero hosting a cycling challenge in Finsbury Square. Initially they asked if they could take a photo of us with our bikes.
"People were being invited to see how fast they could complete 250 metres on an exercise bike as part of a challenge.
"I had a quick go and did it in 16.5 seconds. I'm not sure how but my time was better than Rebecca Romero's. I don't think she was trying that hard!
"I'm really looking forward to beginning the ride on Saturday. I'm hoping to complete each day within 9 to 10 hours and of course no injuries!  It's going to be a huge challenge for me to complete the distance in only nine days with no rest days, but I'm ready and up for the challenge."
To donate money visit Nicky's Just Giving page.  
                                                  -Ends-
Notes to editors:
• For further information about the London Ambulance Service or this news release please contact the communications department on 020 7783 2286.
• Find out more about the London Ambulance Service at www.londonambulance.nhs.uk or follow us on Twitter at www.twitter.com/ldn_ambulance or Facebook at www.facebook.com/londonambulanceservice.
• For more information about Deloitte Ride Across Britain visit www.rideacrossbritain.com/.
• The Maypole Project provides a lifeline of support for children with complex medical needs and their whole family, and supports over 160 children with life threatening, life limiting illnesses and their families every year across South East London. For information about the Maypole Project visit www.themaypoleproject.co.uk/.