Chief Executive leaves Service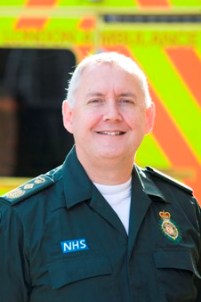 London Ambulance Service Chief Executive, Peter Bradley, is returning to New Zealand to work as Chief Executive Officer of St John after 16 years in London.
Originally from Yorkshire, Peter began his career as a paramedic and worked in a variety of posts with ambulance services in New Zealand. He joined the London Ambulance Service in 1996 as Director of Operations before taking up the post of Chief Executive in 2000.
Peter, who has family in New Zealand, said: "It has been a privilege to run such a great ambulance service. I've been blessed to have this job which has been a massive part of my life for the last 16 years.
"There is no doubt about it, the London Ambulance Service is a very different organisation to the one I joined. That's down to the hard work that staff, managers and unions all do together to improve things."
Under Peter's leadership the London Ambulance Service has seen significant improvements in patient care, not least in performance. Peter said: "At the time I joined we struggled to meet targets. But we now reach 75 per cent of our most ill and injured patients in eight minutes. And we've met that government target for nine years.
"We also have one of the busiest control rooms in the world which has won a number of awards and where most calls are answered in one second."
During the last decade patient outcomes have also improved significantly. Peter said: "Ten years ago Londoners who had an out of hospital cardiac arrest only had a five per cent chance of survival. I'm proud to say that now nearly a third of patients survive."
Deputy Chief Executive, Martin Flaherty, took over as acting Chief Executive of London Ambulance Service on 5 September.
-ENDS-
Notes to editors:
• In his part-time role for the Department of Health as national ambulance advisor, Peter led the strategic review of NHS ambulance services transforming the way they operate. He oversaw the merging of ambulance services across England and appointed new chief executives to their roles.
• Between April 2011 and March 2012 the London Ambulance Service received a total of 1,605,956 calls into its control room and responded to 1,041,739 emergency incidents. This compares to 704,425 emergency incidents in 1999/2000.
• Between April 2011 and March 2012 the London Ambulance Service answered 95 per cent of 999 calls within one second.
• St John provides ambulance services throughout New Zealand as well as other health services to the community http://www.stjohn.org.nz/
• For further information about the London Ambulance Service or this news release please contact the communications department on 020 7783 2286.
• Find out more about the London Ambulance Service at www.londonambulance.nhs.uk or follow us on Twitter at www.twitter.com/ldn_ambulance