London Ambulance Service is proud to be part of greatest sporting event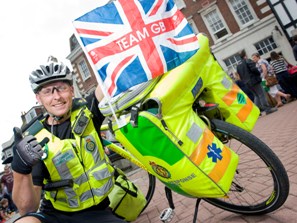 While Team GB delivered the most successful Games in more than a century, behind the scenes London Ambulance Service was making sure it was a safe and healthy event for all those taking part – as well as patients across the rest of London.
In addition to people treated by Locog Medical and St John Ambulance, the Service, working with colleagues from other NHS ambulance trusts, attended over 850 patients in Olympic venues and related events such as live sites and the torch relay. Over 500 people were taken to hospital or the polyclinic at the Olympic Park.
Deputy Director of Operations Jason Killens said: "It was the greatest sporting event of all time and we are proud to have played our part in it."
Between 28 July and 12 August London Ambulance Service attended 46,226 incidents compared to 44,700 during the same period last year.
Jason said: "While we did go to more seriously ill and injured patients than this time last year, we were not as busy as expected. This is probably because Londoners have less chance of being injured if they are glued to their televisions – captivated by the Games –watching Team GB bring home the medals."
During the Games, Londoners got a fast response from their ambulance service. In the time between the opening and closing ceremonies, ambulance crews reached 85 per cent of the most sick and injured patients in eight minutes – beating the government target of 75 per cent.
Jason added: "This was a London event like no other and we'd like to thank all our staff and those from other services who have worked together to make the Games a success."
Student Paramedic Tim Coward worked at a number of events, including equestrian at Greenwich Park, volleyball at Earl's Court and the Olympic Park.
He said: "I've been really proud and honoured to represent the Service at this historic Olympic Games – how often is it that you get the chance to be 10 feet away from world champion athletes while doing your job?
"I've worked in many of the venues, as well as the public events such as Hyde Park and the atmosphere has been amazing. The public and officials have come up to us to say thanks, which makes it very rewarding."
Around 200 staff from other ambulance trusts came to London to provide additional support during the Games.
Kieran Cambell, a paramedic with South East Coast Ambulance Service who normally works in Eastbourne, said: "It's been a once in a lifetime opportunity to work with colleagues from ambulance services across the UK during the greatest sporting event in the world. I'm looking forward to coming back in two weeks for the Paralympic Games."
– Ends –
Notes to editors:
During the Games period (27 July to 12 August) the Service responded to 852 Games-related calls.
During the Games period the Service responded to 46,226 in London compared to 44,700 for the same period the year before. Of these 17,271 were category A ( the most seriously sick and injured patients) compared to 16,410 for the same period last year.
For further information about the London Ambulance Service or this news release please contact the Communications Department on 020 7783 2286.
Find out more about the London Ambulance Service at www.londonambulance.nhs.uk or follow us on Twitter www.twitter.com/@ldn_ambulance