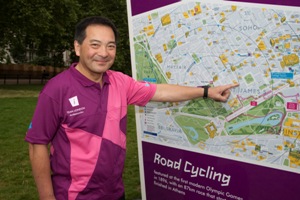 Two members of staff are among the thousands across the capital to be volunteering as London Ambassadors during the Games.
Richard Chow, who works in the 999 control room at the Service's headquarters in Waterloo, will be based near Buckingham Palace and Hyde Park, while Executive Assistant Marilyn Cameron will be at the Southbank.
The duo – who will take up their roles in the coming weeks – are both looking forward to the experience.
Richard, who lives in Notting Hill, will be based at a temporary information shelter in Green Park which has internet access to allow volunteers to get information on which events are on and where.
"I know London pretty well as I was brought up in the West End, which will come in handy," explained Richard.
"People will always want to see London's landmarks and famous areas such as the Houses of Parliament, London Eye, and Westminster Abbey – there's a lot to show off in London.
"My other team mates are aged anywhere from twenty to sixty, and there is one gentleman who has come all the way in from Dorset to volunteer in London for his five days! Everyone is looking forward to it as much as I am."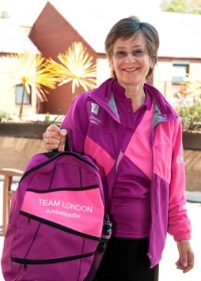 For Marilyn, meanwhile, it will be a case of keeping it in the family, as her daughter Laura is also volunteering as a Games Maker.
Marilyn, who has worked for the Service for 10 years as the Chairman's executive assistant, said: "I wanted to volunteer as I love London and I know my way around. I've only got praise for how well we were trained, as there have been about 8,000 people trained and organised in only eight months.
"I'm looking forward most to meeting so many nationalities. One of the questions we were briefed on was how to answer questions about Ramadan, such as where can people get an Iftar meal at the end of the fast during the day."
Marilyn says the volunteers also appreciated the support they had while being trained: "I've heard that one of our volunteers actually flew in from Australia to be a part of this – it means a lot to people, and it's been really exciting. The volunteers have been offered 'Heartstart' training to keep the good work up, and I plan to continue volunteering afterwards."
-Ends-
Notes to editors:
     Richard
Richard will be volunteering from 8 to 12 August 2012.
Pictures of Richard are available from the communications office on 020 7783 2286.
Find out more about the London Ambulance Service at www.londonambulance.nhs.uk  or follow us on Twitter at www.twitter.com/ldn_ambulance
For further information about the London Ambulance Service or this news release please contact the communications department on 020 7783 2286.
Marilyn
Pictures of Marilyn are available from the communications office on 020 7783 2286.
For further information about the London Ambulance Service or this news release
Please contact the communications department on 020 7783 2286.
Marilyn will be volunteering from 13-18 August 2012.
Find out more about the London Ambulance Service at www.londonambulance.nhs.uk  or follow us on Twitter at www.twitter.com/ldn_ambulance