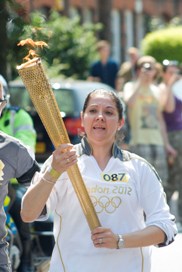 London Ambulance Service medic carried the Olympic torch today (26 July) for a 7 July bombing survivor.
Emergency Medical Technician Tracy Russell was one of the first medics to treat Gill Hicks on 7 July. Gill, who has now moved back to her native Australia, asked Tracy to carry the flame for her as doctors advised Gill not to take the long-haul flight on medical grounds
Tracy said: "It was just an amazing feeling to carry the torch for my good friend Gill and a really uplifting experience.
"I've just spoken to Gill in Australia and she was watching me do it live on a big screen. It's been quite emotional for both of us.
"Loads and loads of people lined the street, and all my family were there as well, including my sister, husband and my three-year-old daughter." 
Notes to editors:
Tracy carried the torch from Lavender Hill in Wandsworth at just before 1pm today (26 July).
For further information about the London Ambulance Service or this news release please contact the communications department on 020 7783 2286.
Follow us on Twitter at www.twitter.com/ldn_ambulance or visit us on facebook at www.facebook.com/londonambulanceservice