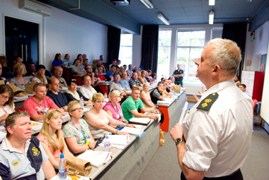 Around 200 frontline ambulance staff from across the country are arriving in the capital today to provide support to London colleagues during the Games.
They will be crewed alongside London Ambulance Service staff to provide medical care in Games venues, as well as liaise between the venues and our control room where we handle 999 calls.
In addition to a four-day Games course already provided by London Ambulance Service trainers, staff from other services are spending two days getting used to the vehicles and equipment they will be using before being deployed to venues from Friday – the day of the Olympic Games Opening Ceremony.
Deputy Director of Operations Jason Killens said: "The London 2012 Games is the biggest event we've ever planned for.  We're expecting an increase of four to five per cent in demand on our service and we've asked other NHS ambulance services to provide some staff to help manage this.
"It's a fantastic opportunity for our colleagues from other services to be involved in this international sporting event.
"Our plans will ensure that there are enough ambulance staff in and around Games venues, but also that we're able to maintain our service to patients across the rest of London.
"So in addition, we'll make the best use of our frontline staff, for example, by placing cycle responders and foot teams in busy hotspots such as St Pancras and Stratford train stations. We have postponed training for the Games period, freeing up clinical staff as well as training officers to be out on the road treating patients.
"We'll also be working closely with voluntary ambulance services at cultural events and will open our event control room to manage our day-to-day response to the Games, which we already do for large-scale events such as the London marathon and Notting Hill Carnival.
Paramedic Pauline Kiely from Yorkshire Ambulance Service said: "We're all thrilled to be in London and really excited about being involved in the Games. This is probably one of the few events we'll get to work as a single national service – with representatives from right across the country.
"It's a once in a lifetime opportunity and I've learned a lot of new skills – including providing treatment to Paralympians."
-ENDS-
Notes to editors:
The London Ambulance Service is helping the London Organising Committee of the Olympic Games (LOCOG) provide medical care in Games venues and, when needed, take patients to hospital for further treatment.
Over 400 staff will be working at Games venues – around half from other NHS ambulance services. This includes clinical staff and managers, as well as people who will be based in venue control rooms, liaising between our control room and the venues.
In addition, over 30 staff will be working at the Olympic Deployment Centre in east London – where staff will go at the start and end of their shifts and will be able to eat, collect their kit, accreditation and be briefed. The team based there will include management, administrators and resources staff.
Over 50 staff will be working in our event control room, which is where our response to the Games will be managed from.
There are 66 new Games branded ambulances dedicated to the venues. 
The Service is expecting to see demand increase between four and five per cent on average.
The following resources will be available in London at peak times during the Games: 

600 staff on 300 ambulances 
120 single responders in cars
20 motorcycle responders
15 ambulance staff on push bikes
60 ambulance crews (120 staff)  in Games venues
Two hazardous area response teams (HART)  – specially trained staff equipped to go into hazardous areas such as chemical incidents, fires, or reach patients in difficult situations. 

A total of £7.6m has been allocated by the Department of Health to us to help deliver our service during Games time.
For photos, to arrange interviews, or further information about the London Ambulance Service or this news release please contact the communications department on 020 7783 2286. 
Find out more about the London Ambulance Service at www.londonambulance.nhs.uk or follow us on Twitter at www.twitter.com/ldn_ambulance