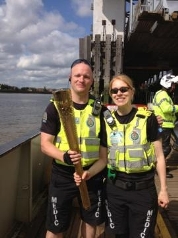 The numbers of two-wheeled medics in London will increase over the next few days to take emergency care to patients quickly through the crowds on the torch relay route and during the Games.

As the Olympic flame made its way through the capital for the first full day yesterday (21 July), 10 cycle medics geared up for the challenge alongside eight ambulance crews on duty on the route.
Two patients were checked over by staff, but neither required hospital treatment.
Around 60 cycle responders, up from the usual 35, will be posted to places with high volumes of pedestrians. The team will cover additional areas such as Stratford, Greenwich, Victoria, the South Bank and along the torch route.
Cycle responders, who have the same lifesaving skills as regular ambulance staff, have already been operating in the West End, City of London, Euston, Kingston and Heathrow Airport for some time.
Assistant Director of Operations Katy Millard said: "We very much look forward to supporting the torch relay this week and are prepared to provide emergency care for the crowds who gather to watch as the flame makes its way around the capital.
"We have posted additional staff in ambulances and on bicycles along the route to treat any patients who need us as quickly as possible."
As the weather is expected to get warmer over the next few days, spectators along the torch route and visitors to the Games are encouraged to enjoy the sunshine safely.
Katy added: "We want everyone to enjoy the torch relay and the Games in London. Stay healthy during the warm weather by drinking plenty of water, wearing sunscreen and seeking shade during the hottest part of the day."
ENDS

Notes to editors:
First trialled in 2000, a cycle response unit (CRU) team has operated in London's West End since 2002.
In 2004, a CRU team was set up at Heathrow Airport because of its large volume of people travelling through and its unique large-scale, indoor environment.
In 2006, a CRU team was set up in the City of London because of the high volume of workers and tourists in the area.
In 2008, further CRU teams were set up in Shepherd's Bush, Hammersmith and the Isle of Dogs (Canary Wharf). The Heathrow Airport team was expanded to cover Terminal 5.
In 2010, a CRU team was set up covering area around King's Cross, St Pancras and Euston stations, and a team in Kingston town centre.
Cycle responders have also been used to attend patients in large-scale public events such as Notting Hill Carnival and high-profile matches at Wembley and Twickenham.
For further information about the London Ambulance Service or this news release please contact  the communications department on 020 7783 2286.
Find out more about the London Ambulance Service at www.londonambulance.nhs.uk  or follow us on Twitter at www.twitter.com/ldn_ambulance