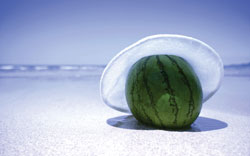 Londoners are being urged to take care in the sun after the ambulance service took an extra 1,000 emergency calls on both days over the weekend.
Staff in the control room answered 5,867 emergency calls yesterday (Sunday 14 July) an increase of 33.5 per cent compared to a few weekends ago.
Director of Service Delivery, Jason Killens said: "We always see a rise in 999 calls in hot weather; for a variety of reasons including people forgetting to keep hydrated and the heat making pre-existing conditions like asthma worse.
"It is important people help us to respond to the most seriously ill and injured by only calling 999 in a genuine emergency.
"Anyone with a minor condition should consider other healthcare options such as visiting their GP, local pharmacy or calling 111."
Among the types of calls that we have seen an increase in are patients with breathing problems, chest pains and fainting. Staff have also treated more patients with alcohol-related injuries and illnesses.
This weekend there was a 17.6 per cent increase in 999 calls to patients who had fallen unconscious or fainted compared to the previous four weekends.
Top tips for keeping well in the heat:
The heat affects everyone, but the young and elderly are particularly at risk. Check up on friends, relatives and neighbours who may be less able to look after themselves.
Avoiding the sun at the hottest part of the day, usually between 11am and 3pm.  
Keeping as cool as possible – wear a hat when sitting or working outside and use plenty of sun cream.
Carrying prescribed medicines for chronic respiratory conditions such as asthma and bronchitis.
Drinking plenty of water and avoid drinking alcohol in the sun.
– Ends –
Notes for editors:
The Service received 5,867 emergency calls yesterday (Sunday 14 July) an increase of 33.5 per cent from Sunday 23 June (4,393).
The Service received 5,742 emergency calls on Saturday 13 July – an increase of 25 per cent from Saturday 22 June (4,592 calls).
The busiest hour yesterday saw staff in the control answer 343 emergency calls.
The number of category A incidents to patients who were unconscious/fainted over the weekend was 560 an increase of 17.6 percent compared to the average from the previous four weekends (average 476 incidents).
For more information please contact the communications department on 020 7783 2286.
Follow us on Twitter at www.twitter.com/ldn_ambulance or find us on Facebook at www.facebook.com/londonambulanceservice