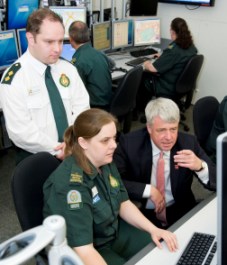 Secretary of State for Health, Andrew Lansley, visited the London Ambulance Service event control room today to meet staff and hear about Olympic planning.
The minister heard first hand about the Service's role during the Olympic and Paralympic Games.
With demand expected to increase by between four and five per cent the Service has drafted in over 200 staff from other ambulance trusts, has 66 new ambulances and a temporary Olympic deployment centre in place. There will be over 400 staff working at Games venues.
London Ambulance Service's Deputy Chief Executive, Martin Flaherty, said: "We have been planning for the Games since 2007 and – with less than three weeks to go – it's great to have the opportunity to show Mr Lansley how we are ready."
Mr Lansley visited the event control room, Bow, East London, which will manage the day-to-day response to the 2012 Games. He met call takers who will take emergency calls and dispatch vehicles to Olympic venues. He also chatted to paramedics who will work in venues and were involved in the London Organising Committee Olympic and Paralympic Games (LOCOG) test events.
 
Mr Flaherty said: "We're very well practiced at covering large-scale events, such as the Queen's Diamond Jubilee celebration and are one of the world's most experienced ambulance services at managing big sporting events. However, it will be a challenge for us to be so busy over such an extended period of time."
During the London 2012 Olympic and Paralympic Games, the London Ambulance Service will be providing support to the LOCOG – the main first aid and emergency healthcare provider at Games venues. Staff will be working closely alongside LOCOG inside venues and will be taking any patients to hospitals.
 
Secretary of State for Health, Andrew Lansley, said: "The Olympic and Paralympic Games are our opportunity to show the best that Britain can offer, including showcasing the excellent services of the NHS frontline.
 
"I am confident that, with these extra frontline staff and new vehicles throughout the busy Games period, the London Ambulance Service will be able to maintain the high quality ambulance service that thousands of Londoners experience every day.
"Frontline ambulance staff in London have had a lot of practice in recent times at helping to ensure that major national events run smoothly and that people who need help, can get it as quickly as possible."
Mr Flaherty added: "We are delighted to be welcoming the Games to London and playing a part in delivering a safe and successful event."
 – Ends –  
Notes to editors:
Pictures available – please contact the London Ambulance Service communications department on 020 7783 2286.
Of the 400 staff working at venues during Games time, around 200 will be from other ambulance trusts.
The Service was awarded £7.6m (2012/13 financial year) to help fund additional resources during Games time. This includes a £1m contingency fund to cover any additional activity or costs.
The Service anticipates an average increase in demand of between four and five percent during Games time. However this may be higher at peak times.
The event control room is already used for large-scale events, such as Notting Hill Carnival, London Marathon and major pre-planned protests. It has capacity for up to 35 members of staff. All 999 calls are answered as normal in the emergency operations room (in Waterloo headquarters). The patient's information is taken by the call taker, however, if the location of the incident is within the event area, the call is automatically passed to the event control room, where staff dispatch resources (eg ambulance crew, cycle responder, foot teams etc). The event control room will be open 24 hours a day during Games time.
For further information about the London Ambulance Service or this news release please contact the communications department on 020 7783 2286
Follow us on Twitter at www.twitter.com/ldn_ambulance