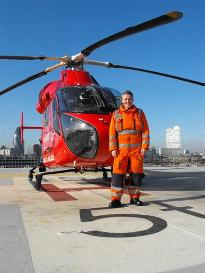 A member of London Ambulance Service staff is running her first 10k this Sunday despite being paralysed in the left leg.
Jules, who used to work in the control room answering 999 calls and is now a training manager, first started having problems with her leg 12 years ago. She said: "I've had several operations and have done a lot of physio to control the pain and to stay on my two feet.
"I've always wanted to enter a race and to improve my life and health, and this challenge has motivated me to go to the gym four times a week. I have lost 12 stone since my original surgery a decade ago. 
"I'm awaiting further spinal surgery and the run will be a huge personal challenge. But I'm determined to complete the course and to do so without support. My family, friends and colleagues have been a tremendous help in preparing for the race."
"I've chosen to raise money for the London's Air Ambulance for the amazing work they do in helping seriously ill and injured patients, and also because of my personal and professional relationship with them. They're a top team!"
You can sponsor Jules' amazing effort at http://www.justgiving.com/juleslockett 
Notes to editors: