Ambulance service preparing for an increase in alcohol calls as Euro 2012 kicks off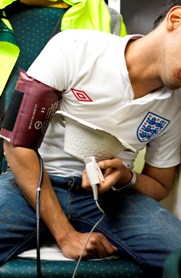 As Euro 2012 starts today, London Ambulance Service will operate extra booze buses and open the Soho alcohol recovery centre to deal with the expected rise in alcohol-related incidents.
The booze buses and the centre normally only operate at weekends but will be open during England games. 
During previous football tournaments, the Service has seen an increase in 999 calls – particularly following England matches. For example, when England played Slovenia in the World Cup in 2010, call volume increased by 41 per cent in the first hour after the match, and the number of alcohol-related incidents that night went up by 42 per cent.
Head of Control Services Richard Webber said: "Big football tournaments mean a busy time for us, and we are preparing for more 999 calls, particularly alcohol-related calls.
"We want people to have a good time, but overdoing it with alcohol can damage your health and lead to other injuries. There are some common sense steps you can take – like eating before going to the pub and pacing your drinking – to avoid ending up in the back of an ambulance.
 
"Anyone with a minor illness or injury – or who wakes up after a big game a little worse for wear – should think about using other healthcare options, such as their local pharmacist or NHS walk-in centre, or call NHS Direct on 0845 46 47."
 
Notes to editors:
The number of alcohol-related incidents on 23-24 June 2010 went up by 42 per cent compared to the week before (16-17 June).
The Soho alcohol recovery centre and the booze bus will be operating on Monday (11 June) from 7pm.
A spokesperson is available for an interview.    
For further information about the London Ambulance Service or this news release please contact the communications department on 020 7783 2286. 
Follow us on Twitter at www.twitter.com/ldn_ambulance or visit us on facebook at www.facebook.com/londonambulanceservice