Hundreds treated at Diamond Jubilee celebrations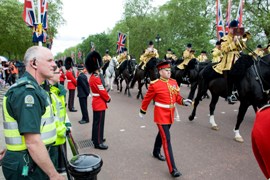 London Ambulance Service tested its plans for the 2012 Games by providing medical care to the large scale events at the Queen's Diamond Jubilee celebrations.
We had over 200 staff dedicated to work at the events on bicycles, motorcycles, ambulances and in teams on foot each day, and volunteers from St John and the Red Cross set up treatment centres in central London. In total, 1,151 patients were treated by ambulance staff.
On Sunday during the Thames river pageant 548 patients, including 46 from the flotilla, needed medical help, and 101 of them – including six from the boats – were taken to hospital.
During the concert at Buckingham Palace on Monday, 302 people were treated, and 43 of them required further treatment at hospital. Tuesday, the final day of the celebrations, staff treated 301 patients, with 29 of them taken to hospital.
Paul Gates, who led the Service's response, said: "We saw patients with a range of injuries and illnesses, including sprained ankles, headaches, and cuts and bruises. Sunday was the busiest day for us, with a lot of people suffering from the effects of cold and wet weather.
"The scale and length of the event was also another chance for us to test our plans and training for the Olympics. It showed that we are definitely on the right track to deliver safe and secure Games.
"I would like to thank our staff, volunteers from St John and the Red Cross, and colleagues from ambulance trusts from across the country who supported us to provide medical care to those celebrating the Queen's Diamond Jubilee."
Notes to editors: