Diamond Jubilee river pageant
To be attributed to a London Ambulance Service spokesperson: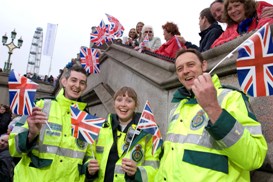 We had 280 extra staff on bicycles, motorcycles, ambulances and in teams on foot on duty yesterday (4 June) at the Queen's Diamond Jubilee River Pageant.
We worked closely with colleagues from other ambulance trusts, St John Ambulance and the Red Cross.
Together with our colleagues, we treated 548 people – 46 from the flotilla – for a range of illnesses and injuries, and 101 of the patients – 6 from the flotilla – were taken to hospital.
We also have extra staff on duty today and tomorrow.
Visit www.facebook.com/londonambulanceservice to see our photos from the day.