From HART to heroes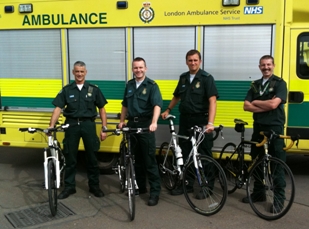 Three London Ambulance Service paramedics will be cycling 1,200 miles in 16 days to raise money for Help for Heroes.  
The paramedics from the Service's hazardous area response team (HART) – a group of staff with extra training who can give life-saving medical care in hostile environments such as industrial accidents and natural disasters – will start the grueling challenge on Monday (21 May) and will visit other ambulance services' HART stations in England and Wales.
Paramedic Stephen Macciochi, from Ilford, came up with the idea almost a year ago. Stephen, who has been with the Service for over 20 years, said: "We will be visiting all 16 HART stations on our tour and the most northern will be Newcastle and western Exeter.
"I came off my bike a couple of months ago while training and broke my coccyx but I'm now back on the saddle. We're all fairly fit anyway given the nature of our everyday job but the part I'm most dreading is crossing the Pennines by going uphill for over 60 miles straight."
"We decided to raise money for Help for Heroes as there are a lot of colleagues who served in the armed forces before joining the ambulance service. More relevantly to HART, a lot of the techniques we use in our job have been developed on the battlefield."
To support the team's effort, you can make a donation at http://www.bmycharity.com/harttohart.
Notes to editors: