Cycle response founder wins 'hero' award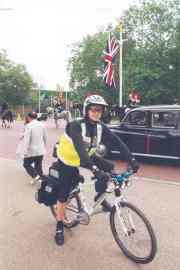 The founder of London Ambulance Service's cycle response unit has won a prestigious national award.
Emergency Medical Technician Tom Lynch, the former international BMX racing champion who pioneered responding to patients in London using pedal power, scooped top prize in the Emergency Services category at the Daily Record Our Heroes Awards.
Cycle Response Manager Tom, 42, from Ayrshire, said: "I'm very honoured, very humbled, but also to be in the same room as some of those great nominees is also quite an honour.
"I've had a great team to work with over the years, and thanks goes to them."
Tom trialled responding to 999 calls on a bicycle in 2000. Since then the London Ambulance Service team has grown to cover the West End, Heathrow Airport, Kingston town centre, the City of London, and King's Cross, Euston and St Pancras railway stations.
Tom also set up the Public Safety Cycling Association to raise the standard of all emergency services and public safety cyclists. He also created the National Cycle Response Group for all ambulance services.
This has resulted in thousands of police, fire, ambulance, St John Ambulance, Red Cross, St Andrew Coast Guard search and rescue, and many other workforce cyclists, including the London bike hire scheme and Docklands Light Railway, all benefiting from his expertise, as well as teams in Europe, Asia and America.
During his career with Team GB, Tom coached world BMX champions Shanaze Reade and Liam Phillips – two Olympic hopefuls this summer.
In 2006, Tom was awarded the MBE for services to bicycle moto-cross (BMX) racing and London Ambulance Service's cycle response unit.
Notes to editors:
For further information about the London Ambulance Service or this news release please contact the communications department on 020 7783 2286.
Follow us on Twitter at www.twitter.com/ldn_ambulance