Staff treat London Marathon runners while colleagues tackle the course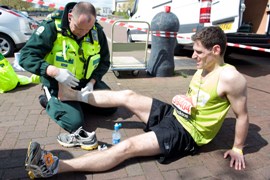 Staff from across the Service supported colleagues in St John Ambulance on Sunday as they treated 5,103 patients at the Virgin London Marathon. 
Of the patients treated by St John Ambulance, 57 were taken to hospital, including the 30-year-old woman who collapsed on Birdcage Walk and sadly died.
Sixteen Service runners helped to raise almost £9,000 for the Chief Executive's new charity, the Maypole Project – an Orpington-based charity that supports children with serious illnesses and their families by offering emotional support and practical advice.
Information Management Networks Manager Mick Theobald completed the marathon in 4 hours and 45 minutes. He said: "I jumped at the opportunity to run the marathon, not realising I had only 10 weeks to train, and I had never been out running in my life!
"The marathon day itself was an emotional rollercoaster – the pre-run nerves, the excitement, the roaring crowds and seeing that finish line after the 26.2 gruelling miles. An experience I will cherish and never forget.
"Thank you to everyone who has supported me – the money I raised will help the Maypole Project to provide one year of support to a child and their family."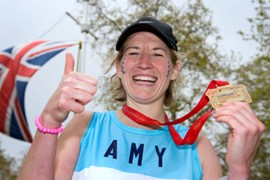 Paramedic Amy Laws, who is based at Pinner ambulance station, completed the marathon in memory of her crewmate's wife who lost her battle against breast cancer.
Wimbledon Student Paramedic Patrick Wright deserves a special mention for finishing in 95th place overall by running the marathon in 2 hours and 35 minutes.
Notes to editors:
For further information about the London Ambulance Service or this news release please contact the communications department on 020 7783 2286. 
Find out more about the London Ambulance Service at www.londonambulance.nhs.uk or follow us on Twitter at www.twitter.com/ldn_ambulance