Service's marathon effort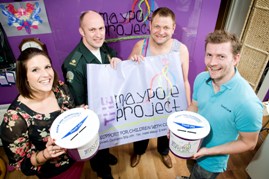 Seventeen staff will be tackling the London Marathon this weekend while over 130 extra staff will be on duty along the route. 

London Ambulance Service receives guaranteed entry places every year for the marathon in recognition of the medical support provided for the event. On Sunday staff will be on foot, bicycles, motorbikes and ambulances, and will be working together with colleagues from St John Ambulance to look after both runners and spectators. 
The Service runners are fundraising for the Chief Executive's new charity, the Maypole Project. The Orpington-based charity supports children with serious illnesses and their families by offering emotional support and practical advice.
Information Management Team Leader Paul Schack will be giving his all along the gruelling course. He said: "The training has been tough, but knowing we are doing it for such a good cause is very motivating."
Last year over £11,000 was raised for MERU, a charity which designs and builds tailor-made equipment for children with disabilities.
Notes to editors: